Portable steam irons are an essential household item that makes ironing clothes fast and efficient. They come in different shapes and sizes, and some models are more advanced than others. If you are in the market for a portable steam iron, it is essential to choose one that meets your needs and budget. Here are some factors to consider when choosing the best portable steam iron:
Power and Wattage: Portable steam irons come in different wattages, and the higher the wattage, the more powerful the iron. A higher wattage iron will heat up faster and will be more efficient in removing wrinkles and creases from clothes.
Water Capacity: Portable steam irons have a limited water capacity, and some models have a larger capacity than others. A larger water capacity iron will require fewer refills, making it more efficient to use.
Soleplate Material: The soleplate of the iron is the part that comes into contact with the clothes. It is essential to choose an iron with a soleplate made of high-quality material, such as ceramic or stainless steel, to ensure that it does not stick to the clothes.
Steam Output: The steam output of the iron is another crucial factor to consider. A higher steam output will make it easier to remove wrinkles and creases from clothes.
Cord Length: The cord length of the iron is another important factor to consider.
1500W Stainless Steel Panel Handleheld Garment Steamer With Hair Brush
MW-801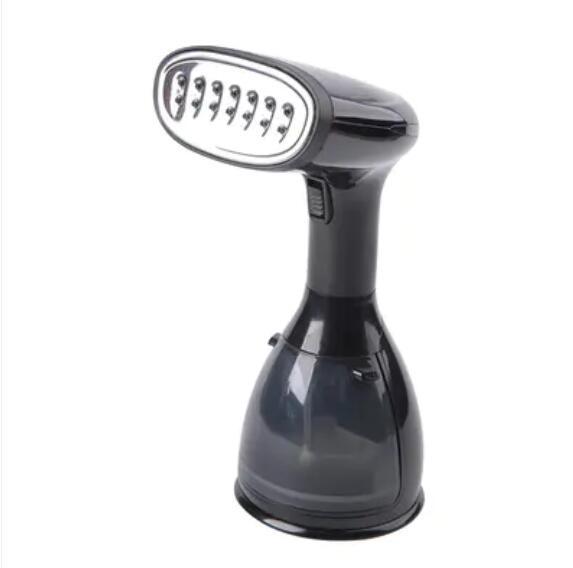 The 1500W stainless steel panel garment steamer with hair brush MW-801 is a portable and handheld garment steamer which adopts the latest technology of heating up in the steam chamber to generate thick steam without any chemical solvent. It features a large capacity water tank , an ergonomic handle, 600ml water tank and dual voltage for your ease.Our 1500W Stainless Steel Panel Handleheld Garment Steamer With Hair Brush MW-801 is an essential home appliance.