Handheld fabric steamers
have become increasingly popular in recent years as an alternative to traditional ironing. These small, portable devices are designed to quickly and easily remove wrinkles and freshen up clothing, curtains, and other fabrics.
One of the key advantages of handheld fabric steamers is their convenience. They are small and lightweight, making them easy to store and transport. Unlike traditional irons, which require a flat surface and can be bulky to maneuver, handheld fabric steamers can be used on a variety of surfaces and can easily be brought with you on trips.
Handheld fabric steamers are also incredibly easy to use. Simply fill the water reservoir, turn the device on, and wait a few seconds for the steam to heat up. Once it's ready, hold the steamer a few inches away from the fabric and run it over the surface, working in sections until all wrinkles are removed.
Another advantage of handheld fabric steamers is their gentleness on fabrics. Traditional irons can sometimes leave scorch marks or damage delicate fabrics, but handheld steamers use a gentle mist of steam to remove wrinkles without causing any damage. They are especially useful for steaming delicate fabrics like silk and linen.
Handheld fabric steamers are also great for freshening up items that can't be easily washed, such as curtains, upholstery, and bedding. The steam can help to remove odors and kill bacteria, leaving your home feeling clean and fresh.
There are a few things to keep in mind when using a handheld fabric steamer. First, make sure to follow the manufacturer's instructions carefully, as different models may have slightly different operating procedures. Second, be sure to use distilled water to fill the reservoir, as tap water can leave mineral deposits that can damage the steamer over time. Finally, always test the steamer on a small, inconspicuous area of fabric before using it on a larger surface, as some fabrics may not be able to handle the heat and moisture.
In conclusion, handheld fabric steamers are a convenient and easy-to-use alternative to traditional ironing. They are gentle on fabrics, versatile, and perfect for freshening up a variety of items in your home. Whether you're traveling or just looking for a quick and easy way to remove wrinkles from your clothes, a handheld fabric steamer is definitely worth considering.
1600W/2000W 350ML Capacity Handleheld Portable Garment Steamer MW-816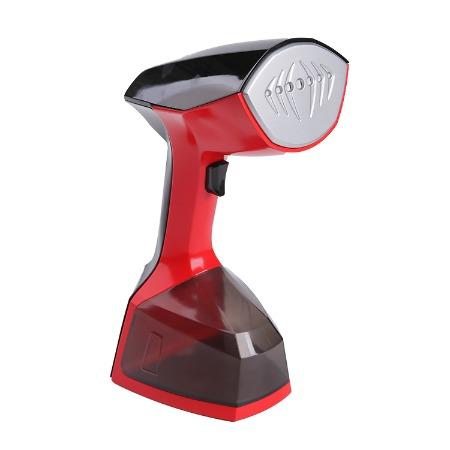 The MW-816 Garment Steamer is an ideal device for saving time and money. The product comes with a water tank capacity of 350ml, power:22O-240V 50/60Hz 1600W/2000W, stainless steel panel and on-off switch. You can easily remove the tank to fill with water, then set the steam setting according to the type of fabric you are working on.