Handheld fabric steamers
have become popular tools for refreshing and removing wrinkles from clothing. Understanding the science behind handheld fabric steamers, particularly the steam technology and its impact on fabric treatment, can help users maximize the effectiveness and efficiency of these devices.
Steam Generation and Distribution:Handheld fabric steamers generate steam by heating water in a built-in reservoir. The heating element converts the water into steam, which is then expelled through a nozzle or steam head. The steam is evenly distributed over the fabric surface, allowing for effective treatment and wrinkle removal.
Steam Penetration:One of the key benefits of handheld fabric steamers is their ability to penetrate fabric fibers with steam. As steam is applied to the fabric, its high temperature and moisture content work together to relax the fibers and release wrinkles. This penetration process helps in smoothing out the fabric surface without the need for direct contact or excessive pressure.
Heat and Moisture Effects:Steam acts as a combination of heat and moisture, both of which play significant roles in fabric treatment. The heat from the steam helps to break the bonds between fibers, making them more pliable and responsive to reshaping. The moisture content of the steam adds humidity to the fabric, which contributes to the relaxation and release of wrinkles.
Gentle Treatment of Delicate Fabrics:Handheld fabric steamers are particularly useful for treating delicate fabrics that may be susceptible to damage from high heat or direct contact with an iron. The steam's gentle nature allows for safer treatment of delicate fabrics, reducing the risk of scorching, shiny marks, or texture changes that can occur with traditional ironing methods.
Odor and Deodorizing Benefits:Steam has natural deodorizing properties, making handheld fabric steamers effective in freshening up garments that may have absorbed unwanted odors. The high temperature of the steam helps neutralize odors, leaving clothes smelling fresher and cleaner.
Versatility on Different Fabric Types:Handheld fabric steamers can be used on a wide range of fabric types, including natural fibers like cotton and linen, as well as synthetic fabrics such as polyester and nylon. The steam treatment is generally safe for most fabrics, but it is recommended to test on a small inconspicuous area first, especially for delicate or sensitive fabrics.
Efficiency in Removing Wrinkles:The combination of heat, moisture, and steam penetration makes handheld fabric steamers highly efficient in removing wrinkles from clothing. With a few passes of the steamer over the fabric, the steam relaxes the fibers, allowing the wrinkles to release and the fabric to regain its smooth appearance.
Speed and Convenience:Handheld fabric steamers offer the advantage of quick and convenient fabric treatment. They eliminate the need for setting up ironing boards, waiting for irons to heat up, or dealing with cumbersome cords. Fabric steamers can be easily operated, making them ideal for quick touch-ups or last-minute garment preparation.
Sanitization Properties:In addition to wrinkle removal and fabric treatment, steam can also have sanitization benefits. The high temperature of the steam can help kill bacteria, dust mites, and other allergens that may be present on fabrics. This makes handheld fabric steamers useful for refreshing and sanitizing items such as curtains, upholstery, and bedding.
Care and Considerations:While handheld fabric steamers offer numerous benefits, it is important to follow manufacturer guidelines and fabric care instructions. Some fabrics may require special treatment or precautions, so it is advisable to test the steamer on a small area or consult professional cleaners for specific fabric concerns.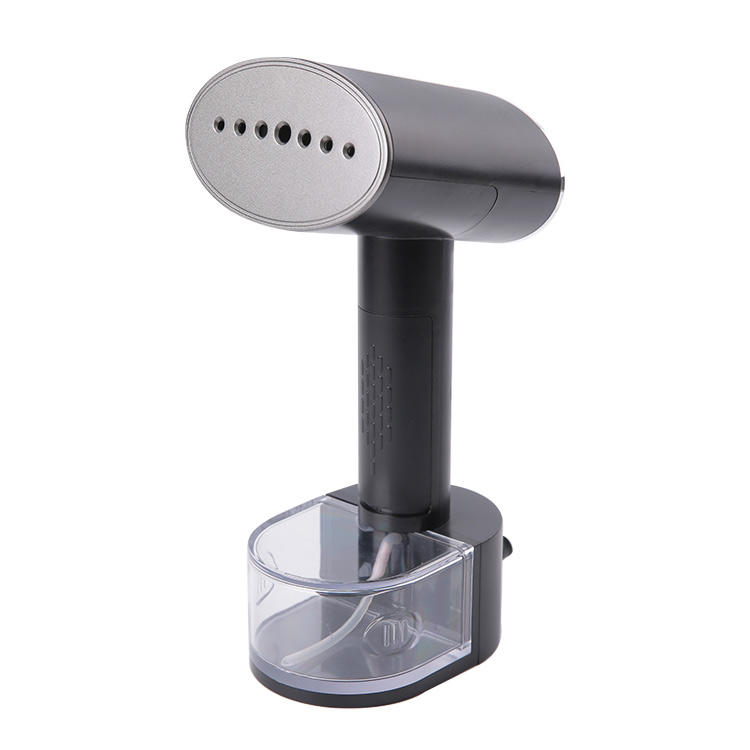 Dry,Steam Ironing Multi-Use Handleheld Portable Garment Steamer MW-810
Low-middle-high version: 3 level steam rate to meet your different clothes ironing need. Intelligent display: Dry, Steam Ironing, No Water alarm and Power Light Indicator for your easy operating. The trolley handle makes it more convenient for you to move around the house. With a Hose, you can put the steam on any areas which the flat iron can't reach. And with a Storage Bag, which is used to cover over the clothes during ironing, to protect the clothes during ironing.