In the world of wrinkle removal, handheld garment steamers have gained popularity as a convenient and efficient alternative to traditional irons. These compact devices utilize the power of steam to effortlessly remove wrinkles from fabrics, offering several advantages over their ironing counterparts. In this article, we will explore the advantages of handheld garment steamers and why they have become a preferred choice for many individuals.
Ease of Use: One of the primary advantages of handheld garment steamers is their ease of use. Unlike traditional irons, there is no need for an ironing board or complicated setup. Handheld steamers are simply filled with water, heated up, and ready to use within minutes. They are lightweight and easy to maneuver, making them suitable for quick touch-ups and handling various fabrics with ease
Gentle on Fabrics: Handheld garment steamers provide a gentler approach to wrinkle removal compared to traditional irons. The steam penetrates the fibers of the fabric, relaxing them and allowing the wrinkles to release without the need for excessive pressure. This gentle method is especially beneficial for delicate fabrics such as silk, chiffon, or lace, where ironing may cause damage or shine.
Versatility:
Handheld garment steamers 
offer versatility in their applications. While their primary purpose is wrinkle removal from clothing, they can also be used on a wide range of other items. From refreshing upholstery and curtains to removing wrinkles from bedding or even sanitizing stuffed animals, handheld steamers provide a multi-purpose solution for maintaining a wrinkle-free and fresh appearance.
Time-Saving: Another advantage of handheld garment steamers is their time-saving capability. With traditional irons, setting up an ironing board, waiting for the iron to heat up, and going through the process of ironing individual garments can be time-consuming. Handheld steamers offer a more streamlined approach, allowing for quick and efficient wrinkle removal without the need for extensive preparation.
Accessible for Hard-to-Reach Areas: Handheld garment steamers excel in reaching and effectively treating hard-to-reach areas that may pose challenges for traditional irons. Collars, cuffs, pleats, and intricate designs can be easily steamed, ensuring that every part of the garment receives the wrinkle-removing treatment. This accessibility helps achieve a more polished and professional appearance.
Safe for Delicate Embellishments: Many garments feature delicate embellishments, such as sequins, beads, or embroidery, that require extra care during wrinkle removal. Handheld garment steamers provide a safe and gentle solution as the steam is less likely to damage or dislodge these embellishments compared to direct contact with a hot iron plate.
Portable and Travel-Friendly: Handheld garment steamers are compact, lightweight, and portable, making them an ideal choice for travel. They can easily fit into suitcases or carry-on bags, allowing individuals to maintain wrinkle-free clothing while on the go. Some handheld steamers are even designed to be dual voltage or battery-operated, further enhancing their travel-friendly nature.
handheld garment steamers offer several advantages over traditional irons. Their ease of use, gentle treatment of fabrics, versatility, time-saving capabilities, accessibility to hard-to-reach areas, safety for delicate embellishments, and portability make them an appealing choice for individuals seeking a convenient and efficient method of wrinkle removal. Consider adding a handheld garment steamer to your laundry routine and experience the benefits it brings to your clothing care and maintenance.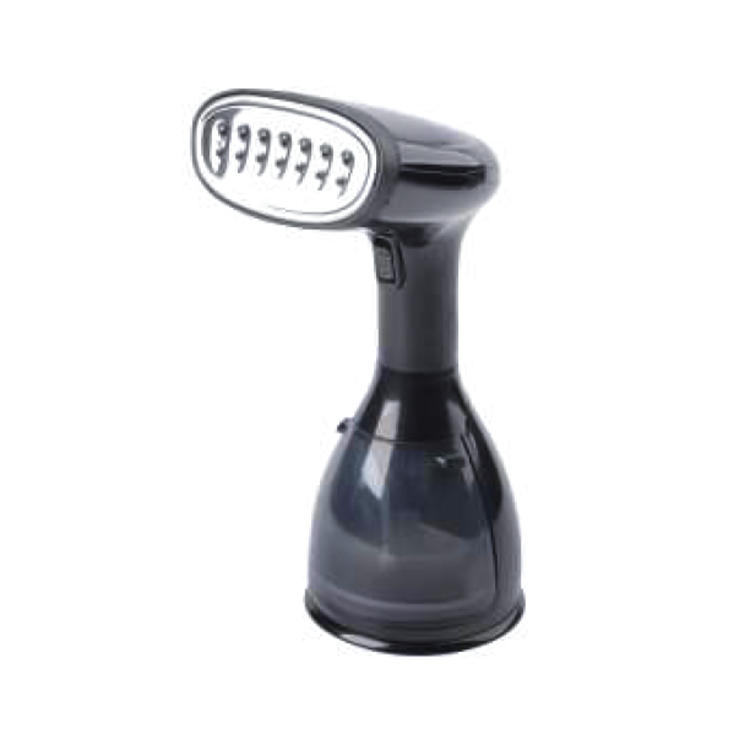 This garment steamer is a handy tool to help you maintain your clothes. The water tank capacity is 280ml and there are 3 levels of steam rate display. The steamer features auto-off function after 30 seconds when no water in the water tank, which helps the product to save more energy.The product is of high quality, lovely and elegant appearance, the ironing is good. This is multi-functional auto-shut off steamer with a handle - you can iron your clothes while doing other things like folding laundry!