The advantages of using a portable handheld garment steamer are clear: portability, convenience, quick wrinkle removal, safe treatment of delicate fabrics, versatility, space and energy efficiency, and user-friendly operation. Whether you're at home or on the go, a portable handheld garment steamer offers a convenient and efficient solution to keep your clothes wrinkle-free and looking their best. With its numerous benefits, it's no wonder that portable handheld garment steamers have become a popular choice for clothing care.
Portability and Convenience:The primary advantage of a portable handheld garment steamer is its compact size and lightweight design.
portable steamer 
is easy to carry and maneuver, making it ideal for travel or use in small spaces. You can effortlessly pack it in your suitcase or travel bag and take it with you wherever you go. Additionally, its handheld operation allows for greater flexibility and convenience, as it does not require an ironing board or a dedicated ironing space.
Safe for Delicate Fabrics:One of the key advantages of a portable handheld garment steamer is its gentle treatment of delicate fabrics. Unlike traditional irons, which can potentially damage or scorch sensitive materials, steamers offer a safer alternative. The steam flow is less likely to cause burns or leave shine marks on fabrics. This makes it suitable for a wide range of fabrics, including silk, satin, chiffon, and even sequined or beaded garments.
Versatility Beyond Clothing:A portable handheld garment steamer offers versatility beyond just clothing. It can be used to refresh and sanitize various household items, such as curtains, drapes, upholstery, bedding, and pillows. The steam helps eliminate odors, reduce allergens, and restore freshness to these items. Additionally, it can be used on plush toys, removing dust and bacteria to maintain cleanliness.
Space and Energy Efficiency:Compared to traditional ironing setups, a portable handheld garment steamer takes up minimal space and requires less energy. It does not require an ironing board or a large surface area. The compact design and handheld operation make it suitable for use in small apartments, dorm rooms, or even while traveling in hotel rooms with limited space. Additionally, steamers use less electricity and water compared to irons, making them a more eco-friendly choice.
Safe and Easy to Use:Using a portable handheld garment steamer is straightforward and user-friendly. Most models have simple controls, such as an on/off switch and steam activation button. Filling the water tank is easy, and the steamer usually comes with a safety mechanism to prevent accidental spills or overheating. Maintenance is also hassle-free, with some steamers featuring self-cleaning or descaling functions.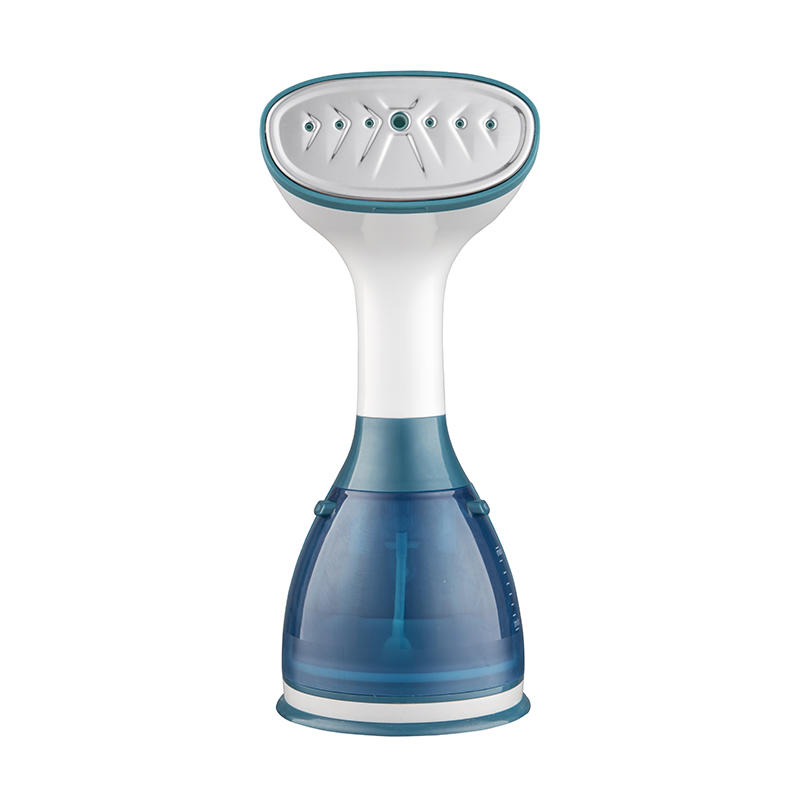 This steam generator has a 280ml capacity tank, with a heating element under the water tank to heat the water and generate steam. The filling of water is done through a detachable front panel, which is easy to fill and clean. The power button can be on or off and it also comes with an anti-drip function. On top of that, when you put down the generator, it will automatically turn off to save electricity.