A portable travel mini garment steamer is a compact and lightweight device designed specifically for travelers who want to keep their clothing wrinkle-free while on the go. This convenient and efficient
portable steamer
offers a hassle-free solution for refreshing garments, eliminating wrinkles, and maintaining a polished appearance, even when away from home. In this article, we will explore the features, benefits, and practicality of a portable travel mini garment steamer.
Compact and Lightweight Design:The key feature of a portable travel mini garment steamer is its compact and lightweight design. These steamers are specifically engineered to be small and easily portable, fitting comfortably into your travel bag or suitcase. The compact size ensures that it takes up minimal space while still delivering effective steaming performance.
Easy Operation:Portable travel mini garment steamers are designed for simplicity and ease of use. They typically feature a straightforward operation with intuitive controls. With just a few simple steps, you can quickly fill the water tank, turn on the steamer, and start removing wrinkles from your clothes. This user-friendly design is ideal for travelers who want a hassle-free steaming experience.
Quick Heat-Up Time:One of the advantages of a portable travel mini garment steamer is its quick heat-up time. These steamers are engineered to heat up rapidly, often in less than a minute, allowing you to start steaming your clothes without delay. This feature is particularly beneficial when you're on a tight schedule or need to quickly freshen up your garments before an important meeting or event.
Efficient Wrinkle Removal:Despite their small size, portable travel mini garment steamers are remarkably efficient at removing wrinkles from clothing. The steamer emits a continuous flow of hot steam that penetrates the fabric, relaxing the fibers and smoothing out wrinkles. This gentle steaming process is effective on a wide range of fabrics, including delicate materials that may be challenging to iron. The result is wrinkle-free clothing with minimal effort.
Versatile Applications:Portable travel mini garment steamers are versatile tools that can be used on various types of garments. Whether it's shirts, blouses, dresses, pants, or skirts, these steamers are suitable for most clothing items. Additionally, they can also be used to freshen up other fabric items, such as curtains, upholstery, or even bed linens, providing convenience and versatility during your travels.
Travel-Friendly Features:A portable travel mini garment steamer is designed with travel-friendly features to enhance convenience on the go. Some models offer dual voltage capabilities, allowing them to be used internationally without the need for a voltage converter. Others may include an automatic shut-off feature for safety, ensuring that the steamer turns off when the water level is low or when it's not in use for a certain period. These features make the steamer suitable for global travel and provide peace of mind.
A portable travel mini garment steamer is a must-have companion for travelers who want to keep their clothing wrinkle-free and presentable wherever they go. Its compact and lightweight design, easy operation, quick heat-up time, efficient wrinkle removal capabilities, versatile applications, and travel-friendly features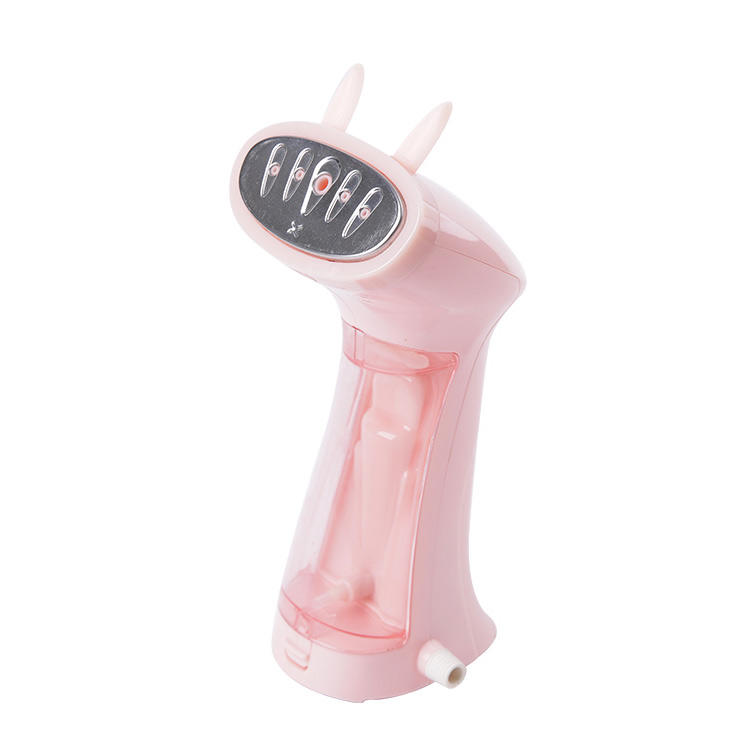 1000W Portable Travel 90ML Capacity Mini Garment Steamer MW-803
This portable 90ML capacity garment steamer is a perfect choice for hotels, hospital, home, office and more. It can be used to remove wrinkles from all kinds of fabric such as suit cloth, nylon, silk cotton etc. With a 2300W powerful steam generator, this unit produces continuous steam for 30 minutes and will work efficiently in cold temperatures.