The stainless steel panel handheld garment steamer with a hair brush is an advanced and versatile clothing care device that combines the benefits of steaming with the added functionality of a hair brush attachment. This innovative combination offers an all-in-one solution for removing wrinkles from garments while simultaneously refreshing and styling your hair. In this article, we will explore the features, benefits, and unique capabilities of the stainless steel panel handheld garment steamer with a hair brush.
Stainless Steel Panel Construction:The stainless steel panel construction of the handheld garment steamer ensures durability and longevity. The stainless steel material is resistant to corrosion and provides excellent heat conduction, allowing for efficient steam generation and distribution. The sturdy construction ensures that the steamer can withstand frequent use and maintain consistent performance over time.
Dual Functionality: Garment Steaming and Hair Brushing:The inclusion of a hair brush attachment sets the stainless steel panel handheld garment steamer apart from traditional steamers. This combination allows you to not only remove wrinkles from your clothes but also style your hair simultaneously. The hair brush attachment features bristles designed to detangle and smooth hair, providing convenience and efficiency in your daily grooming routine.
Wrinkle Removal and Fabric Refresher: Garment steamers from
handheld garment steamer manufacturer
are effective at removing wrinkles from all types of fabrics. The hot steam penetrates deep into the fabric fibers, relaxing them and smoothing out wrinkles. This gentle steaming process is suitable for delicate materials that may be sensitive to high heat or direct contact with a traditional iron. Additionally, the steam helps eliminate odors and refresh garments, leaving them looking and smelling fresh.
Hair Styling and Detangling:The hair brush attachment offers added convenience for styling and detangling your hair. The bristles are designed to glide through the hair, gently smoothing and detangling knots. As you brush your hair, the steam emitted from the steamer helps to soften and condition your locks, leaving them sleek, shiny, and well-groomed. This dual functionality saves time and eliminates the need for separate styling tools.
Adjustable Steam Settings and Water Tank Capacity:The stainless steel panel handheld garment steamer with a hair brush often comes with adjustable steam settings to accommodate different fabric types and hair textures. This feature allows you to customize the steam output based on your specific needs, ensuring optimal results without damaging delicate fabrics or hair. Additionally, the water tank capacity is designed to provide sufficient steam for extended use, reducing the need for frequent refills.
Portable and User-Friendly Design:The handheld design of the steamer makes it portable and easy to maneuver. Its compact size allows for convenient storage and travel, making it an ideal companion for business trips or vacations. The device is user-friendly, with simple controls and an ergonomic handle for comfortable use. The hair brush attachment is detachable, allowing for easy cleaning and maintenance.
The stainless steel panel handheld garment steamer with a hair brush offers a unique and versatile solution for clothing care and hair styling. Its stainless steel panel construction, dual functionality, wrinkle removal capabilities, hair brushing features, adjustable settings, and portable design make it a valuable tool for individuals seeking convenience and efficiency in their daily grooming routines. With this innovative device, you can effortlessly maintain wrinkle-free clothes and achieve well-groomed, stylish hair in one streamlined process.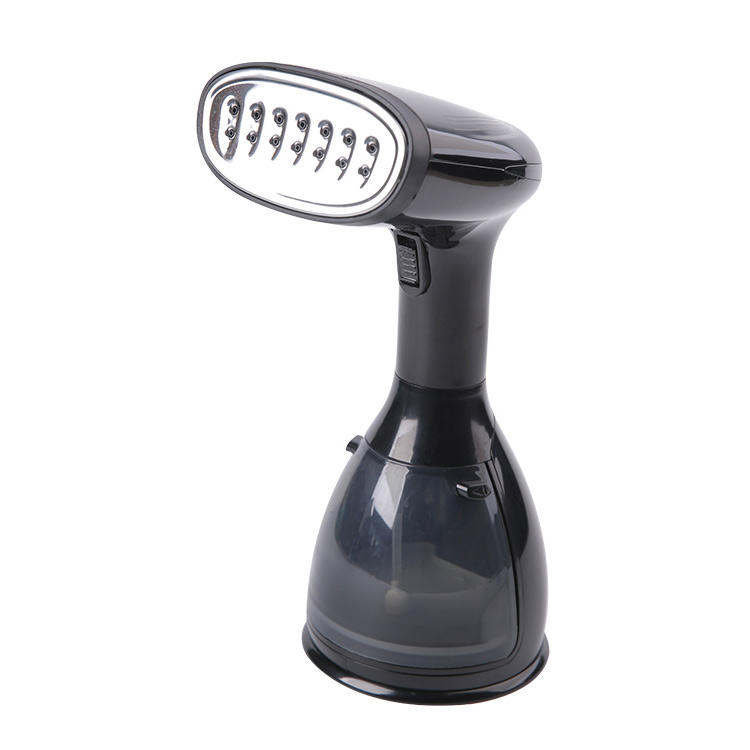 The 1500W stainless steel panel garment steamer with hair brush MW-801 is a portable and handheld garment steamer which adopts the latest technology of heating up in the steam chamber to generate thick steam without any chemical solvent. It features a large capacity water tank , an ergonomic handle, 600ml water tank and dual voltage for your ease.Our 1500W Stainless Steel Panel Handleheld Garment Steamer With Hair Brush MW-801 is an essential home appliance.